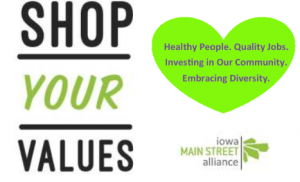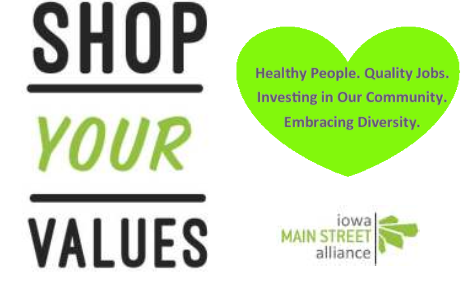 Shop Your Values is a campaign run by the Main Street Alliance to support small businesses that are active community members advocating for progressive values.
To add your business or alert us to a business we should reach out to you can contact Sue Dinsdale at 515-480-3240 or sdinsdale@iowacan.org
 To sign up or for more information, go to: SHOP YOUR VALUES!
One Last Thing…. Have you filled out our 2018 Main Street Alliance Survey?
Iowa Citizen Action Network (ICAN) is a grassroots public interest organization committed to creating social change in Iowa and across the nation. ICAN has united Iowa's progressives for nearly 40 years, and is leading efforts to change the public climate for progressive change. ICAN works in coalition with  organizational affiliates from a wide range of constituencies, including religious, community, labor, senior, family farm and environmental organizations as well as with our thousands of individual members.


SaveSave