We believe that everyone should be able to take time to be there for their family — to care for themselves or a loved one without risking their job or paycheck.
The systems we have in place for paid leave are not working. We've known it for years and this pandemic has brought it to the forefront of our national discussions about essential workers and economic recovery.
Commit to an action below and get a tshirt, mask, hand sanitizer or button!
Once we receive your response we will reach out to send you the goodies!
To Sign On as a Coalition Partner, please email: sdinsdale@iowacan.org
___________________________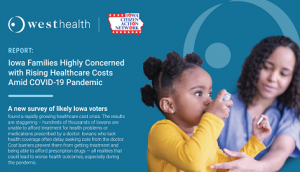 No matter where people live, what they look like or what's in their wallets, at some point everyone is going to get sick and need medication and health care.
To see the responses of Iowans in the new report from West Health and Iowa Citizen Action Network click on:
More than 250,000 Iowans experienced the death of a friend or family member in the past 5 years because they couldn't afford the necessary medical treatment for their illness. Many Iowans are either rationing their care or not picking up or filling prescriptions.
Medications are not only necessary… they are lifesaving.
There is a dual pressure of rising health care costs and concern over the pandemic that is hitting families hard. The number of Iowans who have contracted coronavirus is now edging up on 110,000. And a key concern is the number of Iowans with a preexisting condition rises right along with it.
Add to that the fact that roughly 100,000 Iowa families have lost insurance coverage due to the economic shutdown brought on by the pandemic, it is clear that many are being pushed past the breaking point.
These facts all point to one thing: we are facing an urgent health care cost crisis, and it tracks with what we see in our work every day.
So, business as usual is not working for Iowa families, and we are in a situation where, on top of that, it's anything but business as usual. We absolutely cannot lose sight of the fact that we need our elected officials to address the cost of rising prescription drugs.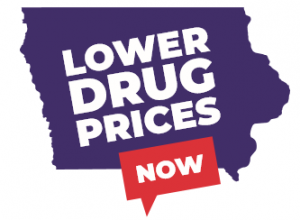 Join the Lower Drug Prices Now Coalition by clicking
__________________________
Iowa Citizen Action Network (ICAN) is a grassroots public interest organization committed to creating social change in Iowa and across the nation. ICAN has united Iowa's progressives for 40 years, and is leading efforts to change the public climate for progressive change. ICAN works in coalition with  organizational affiliates from a wide range of constituencies, including religious, community, labor, senior, family farm and environmental organizations as well as with our thousands of individual members.