We must end corporate welfare now!
Former Secretary of Labor Robert Reich explains the policies that line the pockets of corporations while hurting ordinary Americans.
https://www.youtube.com/watch…
---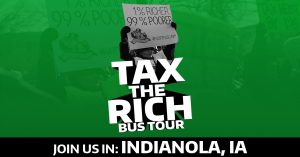 Tuesday, July 23, 2019–12 pm
Town Square in Indianola, IA
The Tax The Rich Tour is coming to Iowa to demand the rich pay their fair share, join us in demanding tax and economic justice!
For additional details stay tuned to the Events Section of our  facebook page or contact Sue Dinsdale at sdinsdale@iowacan.org
  Hosted by Tax March and Tax March Iowa
---
It's Presidential Campaign
Time in Iowa!
Keep track of candidate visits to Iowa in your area.

Attend these events to make your voice heard on issues important to you.
Iowa Citizen Action Network (ICAN) is a grassroots public interest organization committed to creating social change in Iowa and across the nation. ICAN has united Iowa's progressives for 40 years, and is leading efforts to change the public climate for progressive change. ICAN works in coalition with  organizational affiliates from a wide range of constituencies, including religious, community, labor, senior, family farm and environmental organizations as well as with our thousands of individual members.