Statement on Build Back Better: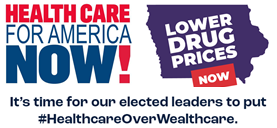 "The provisions in President Biden's Build Back Better Agenda are popular because we know what is essential for our nation to thrive. We need to Build Back Better and this historic framework is a great start: substantially reducing poverty for children and their families; benefiting older Americans and those with disabilities; extending health care to those who cannot afford it; expanding educational opportunities, in fact, by  investing in our future.
We are thankful for Representative Cindy Axne's role in this historic step forward and we call on Senators Grassley and Ernst and Representatives Hinson, Miller-Meeks and Feenstra to follow her lead and invest in the people of our state and country by working to get this legislation across the finish line.
The Build Back Better framework makes significant progress to expand access to affordable health care for millions of Americans, including millions of people who have waited a decade for Medicaid coverage. Closing the Medicaid coverage gap, extending premium tax credits for Affordable Care Act health insurance plans and expanding Medicare coverage for hearing will ensure millions more Americans will have access to the health care they need without having to delay care or go deep into debt. Giving people who are in the Medicaid Coverage Gap in a dozen states access to affordable coverage through the federal government is a key priority for increasing racial equity and fairness in healthcare access and long overdue.
Among the most historic provisions of the proposal are measures that raise $1.9 trillion in new revenue  by closing tax loopholes and ending special breaks for the nation's wealthiest families and most profitable corporations. The new revenue funds tremendous investments while not adding a penny to the national debt.  The plan's tax reforms more than recover from the rich and corporations what they were gifted by the Trump-GOP tax giveaway four years ago. By shutting down accounting maneuvers and other tax-dodging schemes of wealthy households and big corporations, the Biden reforms begin to unify into a single tax code what's become a dual system of mandatory taxes for working people and voluntary payments by the rich.
So while we celebrate the important investments in the package, we realize there is still  more work to do: this proposal omits key items that require long overdue action including implementing Medicare drug negotiations to lower the price of prescriptions for millions of people of all ages. Simply stated, this bad policy and a victory for Pharma.  We can't build back better by allowing drug corporations' monopoly power to set and keep prices high while one third of Americans ration or go without medicine. Congress needs to stop protecting the Pharma profits and amend this proposal to include lowering drug prices through meaningful negotiations."
Contact Our Iowa Members of Congress!  Tell them to rebuild our economy and create fair opportunities for everyone, no matter where they live, what they look like or what they do for a living, the rich and corporations must pay their fair share–just like the rest of us!
Join the Lower Drug Prices Now Coalition by clicking:
We can "build back better," by ensuring everyone has access to affordable health care and more choices by implementing a public option, by expanding services in Medicare and Medicaid, by creating jobs that pay good wages, by providing family friendly leave policies and affordable child care–but lawmakers will have to make a choice: will they support jobs, benefits and health care for us or more wealthcare for the rich and corporations?
CONTACT INFO FOR IOWA'S MEMBERS OF CONGRESS
Senator Joni Ernst (R)
    (202) 224-3254
Senator Chuck Grassley (R)
(202) 224-3744
Representative Ashley Hinson (R) – 1st CD
    (202) 225-2911
Representative Mariannette Miller-Meeks (R) – 2nd CD
    (202) 225-6576
Representative Randy Feenstra (R) – 4th CD
    (202) 225-4425
Representative Cindy Axne (D) – 3rd CD
    (202) 225-5476
______________________________________________
We'd like to thank our members, friends, allies, affiliates and partners for your support and activism!
To continue supporting our work, click HERE to make a contribution
– – – – – – – – – – – – – – – – – – – – – – – – – – – – – – – – – – – – – – – – – – – – – – – – –
Iowa Citizen Action Network (ICAN) is a grassroots public interest organization committed to creating social change in Iowa and across the nation. ICAN has united Iowa's progressives for 40 years, and is leading efforts to change the public climate for progressive change. ICAN works in coalition with  organizational affiliates from a wide range of constituencies, including religious, community, labor, senior, family farm and environmental organizations as well as with our thousands of individual members.