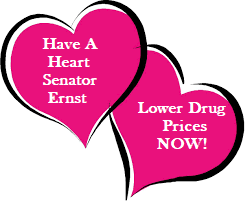 Lower Drug Prices Now – Iowa is calling on Senator Ernst to "have a heart" and keep her promises to Iowans.
We know that no matter where people live, what they look like or what's in their wallets, at some point everyone is going to get sick and need prescription medicines. Whether it's a sore throat, high blood pressure or cancer, everyone needs affordable medicine to lead healthy lives.
While the President and Senator Joni Ernst keep claiming to care about this issue, neither one has taken real action. Rather than supporting the Administration, Senator Ernst needs to support Iowans and call for a vote on the Lower Drug Costs Act (HR 3) that passed in the House in December.  This bill would finally empower the federal government to negotiate for lower prices in Medicare and apply those lower prices to private insurance too for hundreds of drugs.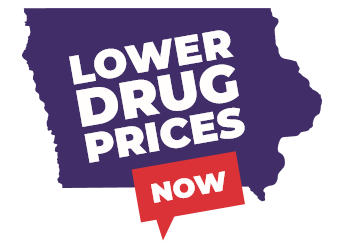 We are collecting prescription drug pricing comments and putting them on hearts to deliver to the Senator's office on Valentine's Day.
Tell us what YOU think!