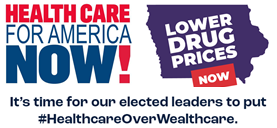 Health equity is not a blue state or a red state issue.  No matter where someone lives or what they look like, no one should be denied access to quality healthcare based on political grudges
Iowa Citizen Action Network released a new issue brief today highlighting racial equity in health care policies as the nation prepares to commemorate Juneteenth
The report describes how Congress and the Biden Administration can reduce racial disparities that result in worse health outcomes and diminished economic security for Black and Brown people by prioritizing policies that make healthcare affordable and expanding coverage.  Check out the report HERE
Our nation is the richest in the world, yet families are struggling to afford health care, prescription medicines, childcare, rent and other basic necessities even as corporate profits soar and the gap between middle class and wealthy grows.
We can do better: it's time for Congress and state lawmakers to level the playing field and ensure that everyone in America has a fair shot at real opportunity, economic mobility and prosperity.  We need to build an economy that works for everyone, not just the wealthy and corporations.
The #HealthcareOverWealthcare campaign is demanding that every lawmaker make a choice to support health care, jobs and opportunity for everyone over more tax breaks and discounts for corporations and rich households.
Contact Our Iowa Members of Congress!  Tell them to rebuild our economy after COVID and create fair opportunities for everyone, no matter where they live, what they look like or what they do for a living, the rich and corporations must pay their fair share–just like the rest of us!
Join the Lower Drug Prices Now Coalition by clicking:
We can "build back better," by ensuring everyone has access to affordable health care and more choices by implementing a public option, by expanding services in Medicare and Medicaid, by creating jobs that pay good wages, by providing family friendly leave policies and affordable child care–but lawmakers will have to make a choice: will they support jobs, benefits and health care for us or more wealthcare for the rich and corporations?
CONTACT INFO FOR IOWA'S MEMBERS OF CONGRESS
Senator Joni Ernst (R)
    (202) 224-3254
Senator Chuck Grassley (R)
(202) 224-3744
Representative Ashley Hinson (R) – 1st CD
    (202) 225-2911
Representative Mariannette Miller-Meeks (R) – 2nd CD
    (202) 225-6576
Representative Randy Feenstra (R) – 4th CD
    (202) 225-4425
Representative Cindy Axne (D) – 3rd CD
    (202) 225-5476
______________________________________________
We'd like to thank our members, friends, allies, affiliates and partners for your support and activism!
To continue supporting our work, click HERE to make a contribution
– – – – – – – – – – – – – – – – – – – – – – – – – – – – – – – – – – – – – – – – – – – – – – – – –
Iowa Citizen Action Network (ICAN) is a grassroots public interest organization committed to creating social change in Iowa and across the nation. ICAN has united Iowa's progressives for 40 years, and is leading efforts to change the public climate for progressive change. ICAN works in coalition with  organizational affiliates from a wide range of constituencies, including religious, community, labor, senior, family farm and environmental organizations as well as with our thousands of individual members.