Wind energy
Wind energy is clean, affordable, and provides proven economic and environmental benefits throughout Iowa.
From our friends at the Iowa Environmental Council:
Wind power benefits Iowa's environment, economy and job market, communities, public health and quality of life. For these reasons, broad support for increasing wind energy in Iowa is strong.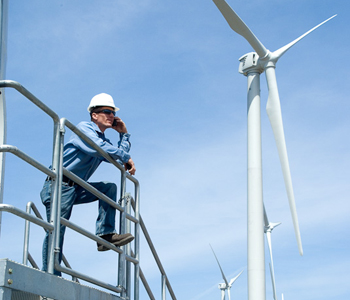 Iowa is a national leader in wind energy, producing the highest percentage of electricity produced by wind – over 57 percent (2022) – of any state. Iowa is the first state to generate more than 57 percent of its electricity with wind power. Iowa also ranks second nationally in the amount of wind energy installed with 12,219 MW (2021).
New wind projects are under consideration or under development that should bring Iowa to over 14,000 MW of wind by 2024. This is a major milestone and will keep Iowa on track to secure its national leadership in the years to come.
Iowa's wind energy leadership provides important benefits. Wind energy is the lowest cost source of new electricity generation, which helps keep utility costs low and stable. Iowa's wind sector supported over 3953 jobs in 2020 while providing millions in revenue to landowners that host turbines and to counties in property tax revenue. Iowa companies in the wind energy supply chain are located across the state.
While Iowa's wind leadership should be applauded, significant potential remains. Iowa has the technical potential to meet our electric needs many times over. Iowa can also build and sell wind energy, infrastructure and services to other states, increasing economic development and job opportunities.
THE IOWA ENVIRONMENTAL COUNCIL ADVOCATES FOR POLICIES THAT ENCOURAGE WIND ENERGY GROWTH AND DEVELOPMENT. WE ARE COMMITTED TO ADVANCING POLICIES THAT:
Maintain and expand the incentives available to own or invest in wind turbines, including tax incentives
Ensure sufficient high-voltage transmission infrastructure exists to allow for significant additions of wind power and continued wind development in Iowa to use this infrastructure
Work collaboratively with partners and develops to ensure the routes of new transmission lines can support needed infrastructure with minimal disruption to Iowa's land and waters
To learn more about wind energy in Iowa, visit Energy Fact Sheets page and Energy Publications page.
There are no current updates.