Click HERE to tell us your story!
Med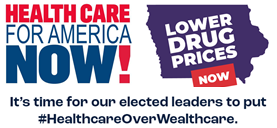 icare has remained stuck in the 60s.  It's time for us to strengthen and expand it!  We need the Build Back Better Agenda!
Drug corporations have been price-gouging patients, taxpayers and businesses for over a decade, with price increases that outpace inflation and put even basic medicines out of reach for millions. Americans spend more on prescription drugs than any comparable nation, paying double today what they paid in the 1990s.
Click HERE to tell us your story! 
We'd like to share stories from constituents to our Members of Congress.
What it would mean to you if Congress allowed Medicare to negotiate with pharmaceutical companies?
How would you or someone in your family benefit from lower prescription drug prices?
Empowering the government to negotiate down drug prices would not only lower costs for seniors on Medicare, but for Americans with private insurance and employers as well. It would save taxpayers over half a trillion dollars. Those savings could be invested in further making healthcare more affordable, expanding coverage in Medicare to include dental, vision and hearing for seniors and closing the Medicaid coverage gap for millions of people that have no access to coverage or medicine.