Listen to the full recording of the conversation here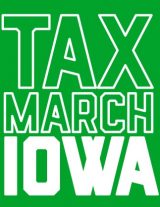 Tax March Iowa Holds Conversation with Representative Cindy Axne, Small Business Owners/Farmers 
IOWA — Today, Tax March Iowa hosted a press call with Rep. Cindy Axne (IA-03) and various small business owners and family farmers in Iowa who are struggling to keep their businesses and families afloat during the coronavirus pandemic because of the Trump administration and Congressional Republicans' failure to prioritize people over corporations.
Iowa's small business owners are being hit hard by the economic impacts of coronavirus. Here in Iowa, where 99 percent of Iowa's businesses are small businesses, both owners and employees' livelihoods are at risk. Farmers and small business owners on today's call spoke about the need for elected officials, especially Sens. Ernst and Grassley (IA-R), to fight for policies that support small businesses during this pandemic.
Listen to the full recording of the conversation here.
"We understand that there are holes in the system, and it can be a daunting process to work through if you aren't familiar with it, but the House Democrats have your backs and we are trying to help those folks who are on this call, not just the businesses who already have support," said Rep. Cindy Axne. "We are trying to save small businesses and get money in people's pockets."
"About 5 years ago, I bought the community bowling center. This has been a dream of mine since I was a little kid who went bowling here. It has been hard since 80 percent of my business has been closed due to being a social gathering center, which I support. But, like a lot of us small businesses, we just don't have the savings to keep us opened," said Adel Family Fun Center-owner Bryce Smith. "We have shifted to take-out orders to bring something in, but this only helps with about 20% of our normal revenue."
"We have closed all of our stores. We have gone from being a company that went from about 70% in store, to trying to do it all online. There is so much you can say about this time, but who knows where we will be in 6-10 weeks once the PPP loans run out," said Raygun-owner Mike Draper. "When is the demand going to come back? People aren't going to go shopping until they feel comfortable going out. Until we ramp up testing, there isn't much we can do to ramp demand back up. We should be able to maintain business operations for the next few weeks or months, but who knows after that?"
"AdCraft is a 57 year old company in Cedar Rapids. We are still open, but our business is about a third of what it normally is. We are supposed to get PPP help tomorrow, but it is not going to fill in the whole bucket," said Shawn Gallagher, owner of AdCraft Printing. "We need to ensure small business loans and additional help continue, because the economy isn't going to just kick back into gear after six to ten weeks."
"I have been a family farmer my whole life. Sole proprietor loans are an option for me, but because of all the issues I faced with my farm last year, I didn't show a profit last year and you need to show a profit to get a sole proprietor loan," said family farmer Chris Petersen. "It's been three weeks without having a paycheck, so things have been kind of tight. I have been doing contracting work on the side, but God knows where that's going to end up."
To set up interviews with Tax March Iowa spokespeople and partners, please email sdinsdale@iowacan.org.
# # #
Facebook: https://www.facebook.com/taxmarchiowa/
Twitter: https://twitter.com/TaxMarchIowa