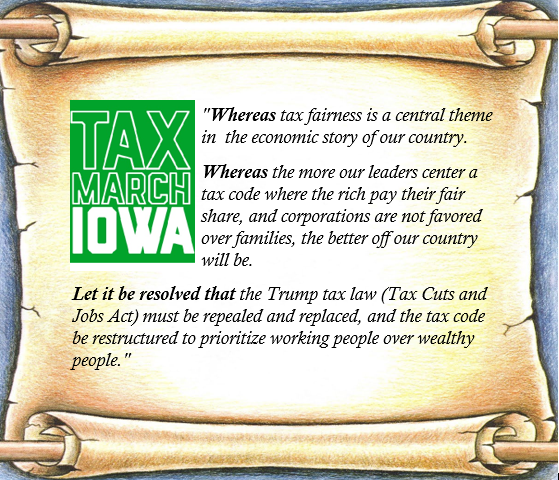 In advance of the Monday, February 3rd Iowa Caucuses, Tax March Iowa is offering caucus-goers a resolution to submit  for their party's platform. At your caucus you will have the chance to shape the party platform… to include issues that are important to you.
One issue is calling for the repeal of the Trump Tax (Tax Cuts and Jobs Act).
Two years ago Congress passed and the President signed the Tax Cuts and Jobs Act (TCJA). The bill showered huge tax breaks on corporations and wealthy individuals, while doing little for most working families.
Whether the focus is on all Iowans, or just retirees, or small business owners, or farmers, or working families,  the picture remains the same: It doesn't matter if you are a Republican or Democrat, the wealthiest get most of the benefits, while the lower-income half of the population is left with little.
REMEMBER: The more people who submit the resolution, the higher chance it has of getting into the Party Platform!
For more information about your precinct, click on the appropriate party and you will be directed to the caucus website:  Republican Caucus Details  and Democrats Caucus Info
Did you submit your TMI Resolution??