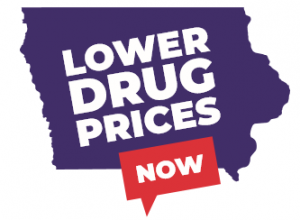 You can listen to a recording of the call here
 SENATOR TOM HARKIN AND IOWA LOWER DRUG PRICES DEMAND NO PANDEMIC PROFITEERING FROM DRUG CORPORATIONS
Leaders Urge Congress To Take Action In Next Relief Bill To Ensure Drug Companies Can't Exploit This Crisis
Senator Tom Harkin joined Lower Drug Prices Now, local groups and Iowans directly impacted by COVID-19, for a tele-town hall last week to urge Congress to take action to prevent pandemic profiteering by drug companies charged with developing COVID treatments and vaccines. Over 1,000 Iowans participated in the call.
You can listen to a recording of the call here.
Speakers included (in order)
Sue Dinsdale, Moderator
Senator Tom Harkin, Keynote
Margarida Jorge, National Director Lower Drug Prices Now
Representative Timi Brown-Powers, State Rep and frontline health care worker
Midge Slater, Iowa Retiree
Comments/Questions:
Matt Sinovic, Progress Iowa
Abraham Funchess, Waterloo
Chris Schwartz, Black Hawk County Supervisor
Congress has already given billions in taxpayer dollars to cover the research, development and manufacturing of promising coronavirus treatments. Despite the investment of public funds, Americans and communities across the globe have received no commitment from the Trump Administration and Congress that a COVID-19 vaccine and other treatments will be affordable to all.
The tele-town hall focused on actions Congress can take today to rein in the big drug corporations, ensure all people have access to affordable vaccines and treatment, and better combat coronavirus in our communities.
Groups joining the call included: Lower Drug Prices Now Iowa, Iowa Citizen Action Network and Iowa Alliance for Retired Americans.
###
Cosponsors of Iowa Lower Drug Prices Now include: Cosponsors include: AFSCME Council 61; Americans for Democratic Action-Iowa; Des Moines Firefighters; Indivisible Iowa; Iowa Federation of Labor, AFL-CIO; Iowa Main Street Alliance; Iowa State Education Association; Iowa Voices; National Association of Social Workers-Iowa; Progress Iowa; Protect Our Care; Tax March Iowa.
Lower Drug Prices Now is a national coalition of nearly 60 social, racial and economic justice organizations with members in all fifty states. We are committed to transformative, systemic and bold reforms to ensure everyone has access to affordable medicines — no matter where they live, what they look like or how much money they have. Learn more at www.lowerdrugpricesnow.org and follow us on Twitter @peopleb4pharma.