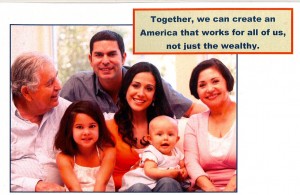 Petitions will be delivered to your Senator and Representative later this summer… we will keep you updated!
Tell your Senator and Representative:
It's tougher than ever for working people to afford the basics and get ahead.  Stand with us and support these 4 common-sense steps to help people care for and support our families:
Raise the minimum wage. Two out of three Americans who work at the minimum wage are women.
Equal pay for equal work.  Women should get paid the same amount as men for doing the same work.
Paid sick days and family leave.  Americans should not have to choose between their jobs and caring for their families.

Time for our jobs and our kids

.  Help Americans meet the challenge of managing both job and family life, with affordable childcare, quality pre-K and after-school programs.